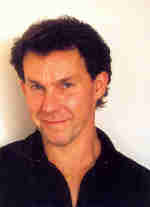 Back to the Greg Allen selections
Greg Allen
Armed with a passion to draw and blessed with creative parents - his father was a noted architect - Greg Allen began to develop a precocious understanding of design and materials, and the stuff of art, in his teenage years. Allen was born in Australia in 1958 and studied at the Caulfield Institute of Technology in Melbourne. He established himself as a professional artist when he was 23 and had his first solo exhibition that same year.
In 1982 he was awarded the prestigious Camperwell Rotary Travel Scholarship of five months of study and travel in Europe. In 1990 he studied pastel painting under Daniel Greene in New York. In 1991 he won the Alice Bale Watercolor Prize. He has won the important Camperwell Rotary Watercolor Prize twice, in 1990 and 2000, and has 24 other major First Prizes and Best of Show Awards for watercolor to his credit. Greg is a much sought after tutor and has been a guest lecturer at Melbourne University.
With 12 solo exhibitions and 6 group exhibitions under his belt, Greg has a considerable reputation as one of Australia's most accomplished watercolorists. His work has been acquired for several corporate collections as well as many important private ones. His work is exhibited worldwide, with galleries in Australia and Great Britain along with Portnoy Galleries in the United States. His work has been published on several occasions and articles on his working methods have appeared many times in Australian Artist and International Artist magazines. He has led International Painting Workshop Vacations to Europe for International Artist magazine. Allen is a member of the Victorian Artists Society and the Watercolor Society of Victoria.